Entertaining can be a chore (you have to invite everyone from work because that's the way it's done at your office or your partner's office), can be stressful (you're new at it, or unsure of some aspects, or just generally have stage fright about such things, like this and making speeches), or can be loads of fun.
Of course, you know your attitude can make a difference. That and a lot of prior planning and some experience with entertaining either small or large groups.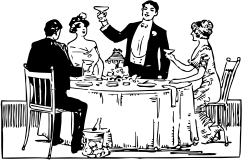 First, tell yourself over and over again how much fun everyone is going to have. Think up some topics of conversation to have handy in case it lags. If you feel pressed for time, delegate. Either pay for someone to cook and/or clean, or get family members to pitch in. If you can't do either, scale back on what you will serve for food. Can you just make it a cocktail hour instead of a full meal? Can you have some relatives and close friends bring food? Can you lock some bedroom doors if you don't have time for a thorough cleaning?
Have you planned what you're going to wear, what you're doing for decorating, and what you're going to serve for food and drink? Plan what you'll wear first, then decorate, then plan and make food ahead.
Have signature drinks and food that are quick and easy to make. Things people always want you to serve. Try for one for each course, so if you're asked to bring something for a specific course for someone else's party, you'll have making it down pat. This means an appetizer, a main dish, a salad, a vegetable casserole, and a dessert. Also think about a nice punch. Fill in with what other people bring, with beer and wine, if yours is a drinking crowd, soft drinks. Use easy things like chips and dip, a main course you can make days ahead and freeze, a simple but fabulously elegant dessert.
Be sure you have enough serving dishes and utensils for everything. If possible, use paper plates, napkins and so forth for a large crowd (unless you can afford large services and people to do the clean-up). If you buy special serving dishes and other things for the holidays, be sure to have one spot where they are kept so it will be easy next year to get them out to use again.
Most important of all, when the big day comes, relax, plan  to enjoy your own party, and go with the flow. Most likely it will be fabulous. Anything that goes wrong can be something to laugh about at next year's party. Remind yourself that you've done the very best you can, and let it go at that.