In the age of the computer, do we still need to print stuff out? Well, maybe. If you have a good memory and back up often, maybe not. However, if your memory is iffy and you go for months without backing up, probably.
Two things I always print out and keep on my computer, too: contracts and anything to do with finances.
Contracts because even those of us with good memories may forget where the heck we stored a particular contract on our computers. I don't have many contracts, so I simply have a file folder labeled, you guessed it, "contracts." On the computer, though, I store the contract with everything else I have about the story or book, such as the actual document in different formats, a notes file, etc. Also with contracts, I like to read them over in printed form and mark them up.
Financial records because I keep them by year in a folder. I make copies for my accountant at tax time, and they are available if Uncle Sam ever comes calling. So, this is a convenience. And of course, some stuff still just comes in snail mail format, so it's not on the computer to begin with.
Manuscripts, I  used to print them all out and had a physical file for each one. When we moved to the motorhome, with several 80,000-word manuscripts and about eighty short stories written, having everything in print simply took up too much room. What I had already printed out, I put in our storage unit. But I had a laptop with plenty of memory, so I stopped most of the printing and physical filing and worked out a good system on the computer.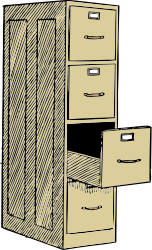 Notes and Research are also now kept on the computer.
Submission Trackers used to be kept in two different places. One submission tracker was in each physical file folder for the work. And a notebook had printed-out submission guidelines in alphabetical order with a tracker of what was sent to that publication. At the front of the notebook I had a form for each story sent out, date, and response. Now all this info is kept in my computer.
Are you still printing everything out? Some things out; some not? Do you have good systems in place or just wing it?